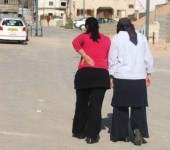 Why use a doula?
Of all the things we have to spend money on during pregnancy and birth, why should hiring a doula be on the top of your list? This is a very good question. After all, the bottom line is that a woman's body knows how to have a baby - women have been doing it since the beginning of time. But in our modern times, with many mothers going to hospitals to have their babies, the whole dynamic has changed, and often the hospital environment and its procedures conflict with the natural rhythm of the woman's body to proceed with labor: there are very bright lights, disruptive noises, lots of people running in and out, and shift changes. Moreover, lying in bed with a monitor is difficult for the mother, and there's also the pressure to speed up the process in order to make room for the next woman. All these factors can interfere with labor, and in many cases, slow down or stop the labor, such that medical interventions must be introduced which have been known to cause fetal distress – a situation which can sometimes lead to cesarean surgery.
With a doula, it is possible to stay out of the hospital for early labor, yet still receive proper care. A doula uses many comfort measures such as massage (many types), counterpressure, reflexology, acupressure points, positions to help turn a posterior baby, breathing techniques, cold/warm compresses, birth ball positions, visualization, guided imagery, almond oil for perineal massage during birth to avoid tears, and other techniques. Keeping labor simple and natural, your body can open naturally, let the baby move down, and get ready for a birth that can be fulfilling and empowering.
While in the hospital, a doula stays by your side the entire time. The midwives, due to their professional responsibilities, cannot devote so much time to one laboring mother. Your doula helps you understand what is going on in the hospital, and helps you make educated decisions regarding your care (a doula does not make decisions for you, only helps you understand your options). In this way, she helps you avoid unnecessary hospital interventions and Cesarean birth.
Regarding religious Jewish couples, there is another issue that arises that I personally can help with. I am very familiar with the halachot, or laws, of "niddah", being that I, myself, am religious. Understanding the halachot surrounding niddah, I can fulfill the need of the woman to be massaged in the way she needs, at a time when her husband must avoid doing so. I am also very sensitive to issues of modesty, or "tzniut", and make sure that these issues are respected in the hospital.
With post partum doula assistance, I assist and advise with breast feeding, baby care, and acclimation into the family. I have also learned how to recognize the onset of post partum depression, and have referral services available.
You deserve to have a doula at your birth so you can have the kind of birth you want.